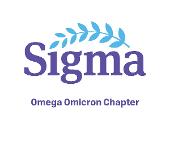 Formerly known as the Southwest Minnesota Nursing Honor Society
Welcome to Omega Omicron Chapter of STTI!
As current president of the Omega Omicron Chapter of STTI, I welcome you to our website and invite you to consider joining our chapter. We strive to help promote Sigma's mission to recognize and help promote leadership, service, and nursing scholarships. As a member, you join a group which consists of nursing students, professionals, and nursing leaders within our local communities. The chapter offers various opportunities to meet others, enhance leadership skills, and obtain continuing education credits. We are involved in community services within our local areas, along with offering opportunities to be involved in committees that allow members to be part of chapter decisions to help guide the chapter in its mission.
I first became a member of the group when it was first started as the Southwest Minnesota Nursing Honor Society after I graduated from Southwest Minnesota State University's (SMSU's) RN to BSN program in 2016. Since then, the group became an official chapter of the Sigma Theta Tau International in 2019. I am excited for the opportunities' becoming a chapter brings to our group and the nursing community. Feel free to explore our website and please let me know if you have any questions or if I could assist you with anything.
Sincerely, Melissa Kidrowski, President